AAAC ASTM-B All Aluminium Alloy Conductor APPLICATION
AAAC is used as a bare overhead conductor for power transmission and distribution lines,on aerial circuits that require a larger mechanical resistance than AAC, and better corrosion resistance than ACSR. The sag characteristics and the strength-to-weight ratio of AAAC is better than both AAC / ACSR.
AAAC are designed to get better strength to weight ratio and offer improved electrical properties, excellent sag-tension characteristics, and superior corrosion resistance when compared with ACSR. As compared to a conventional ACSR conductor, the lighter weight, comparable strength & current carrying capacity, lower electrical losses and superior corrosion resistance have given AAAC a wide acceptance in the distribution and medium & high voltage transmission lines.
AAAC ASTM-B All Aluminium Alloy Conductor Installation
It is recommended that the installation instructions indicated by the Local Electric Code, or any equivalent, be followed so that the safeguarding of persons and the integrity of the product will not be affected by deficiencies in the installation.
AAAC-ASTM-B All Aluminium Alloy Conductor Construction
Aluminium alloy conductor Type AL2 to AL7 as per IEC 50183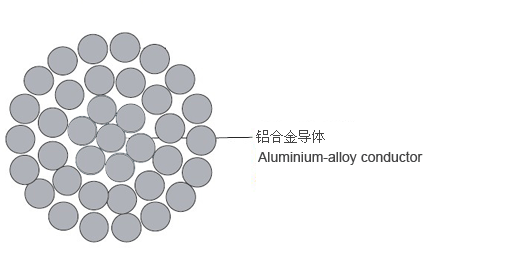 AAAC ASTM-B All Aluminium Alloy Conductor STANDARDS
ASTM – B 399 Metric Units,
ASTM – B 231,
TS IEC 1089,
DIN 48201,
BS 215, UNE 21.018
BS 3242,
BS EN 50183, etc.
GB/T 1179-2008
AAAC-ASTM-B All Aluminium Alloy Conductor CODE WORDS:
Akron, Alton, Ames, Azusa, Anaheim, Amherst, Alliance, Butte, Canton, Cairo, Darien, Elgin, Flint, Greeley
Code Name
Area
Size&Stranding of ACSR with equal diameter
No. and diameter
Overall diameter
Weight
Nominal breaking load
Nominal
Actual
AWG or MCM
Al/St
MCM
mm2
mm
mm
kg/km
kN
AKRON
30.58
15.48
6
6/1
7*1.68
5.04
42.7
4.92
ALTON
48.69
24.71
4
6/1
7*2.12
6.35
68
7.84
AMES
77.47
39.22
2
6/1
7*2.67
8.02
108
12.45
AZUSA
123.3
62.38
1/0
6/1
7*3.37
10.11
172
18.97
Remark:This is just part of the standard parameters of our products. Please contact our Engineer if you need more.